Iron Ore Separation Line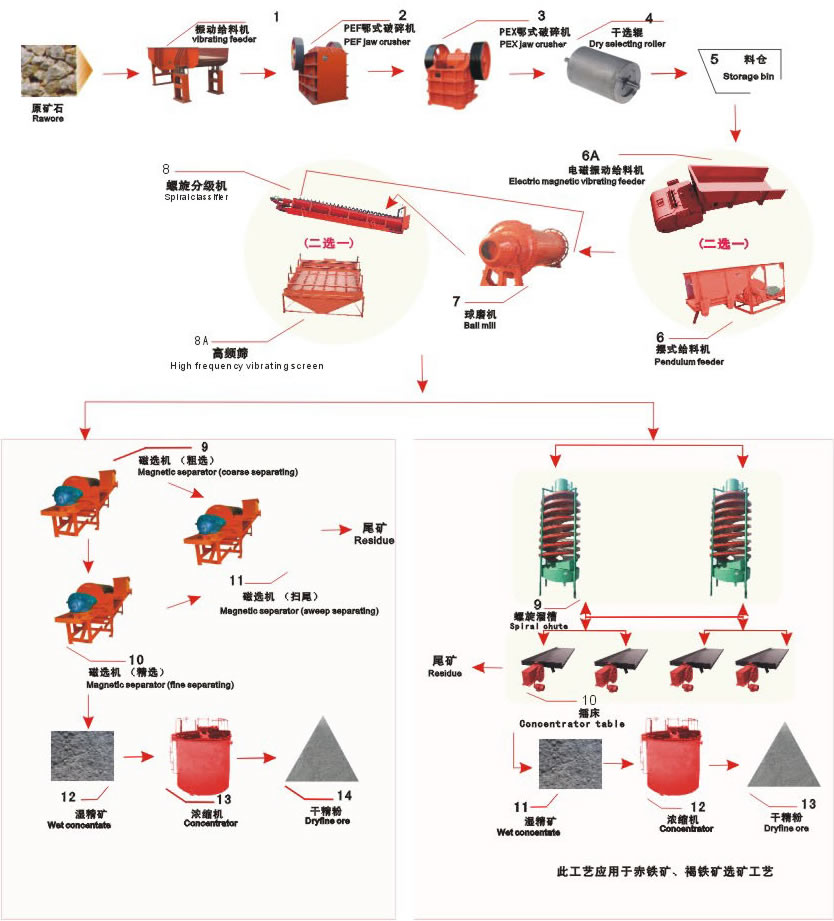 About Iron Ore:
Iron ores are usually rich in iron oxides with various colors such as dark grey, bright yellow, deep purple, rusty red, etc. The iron itself is usually found in the form of magnetite (Fe3O4), hematite (Fe2O3), goethite (FeO(OH)), limonite (FeO(OH).n(H2O)) and siderite (FeCO3).
Elements: Fe3O4, Fe2O3, FeO(OH), FeCO3, etc.
Mohs hardness: 5.0-6.5
Available machines: Jaw Crusher, Ball Mill, Magnetic Separator
Applications: Metallurgy, Beneficiation
Iron Ore Separation Line:
The most commonly used crushers for iron ore breaking are jaw crusher, impact crusher, hammer crusher and high-efficient iron ore fine crushers. For iron ore beneficiation, customers usually use a complete iron ore production line for higher efficiency. At present, the most popular iron ore production lines consists of two jaw crushers. After crushing, the iron ore is sent to magnetic separator for the magnetic separation, and then into the ball mill for grinding.
Ball mill is an important iron ore grinding machinery in the secondary stages. Compared with many other grinding mills, the capacity of ball mill is higher and it do be a kind of high performance and cost-effective iron ore separation equipment.
At the next step process, the equipments are quite different from each other due to the different concentrating methods. For example, iron ore producers can choose high-intensity
magnetic separator
; they can also utilize low-intensity magnetic separation method. Besides, the
gravity separation machine
is also a good way for iron separation. Users should choose the right way depends on the analysis and experiments.
Hot product
Your Contact Details To Us
(*)Required information