Magnetic Separation Line
Description of Magnetic Separation
Magnetic separation is a process in which magnetically susceptible material is extracted from a mixture using a magnetic force. This separation technique is widely used in mining iron as it is attracted to a magnet. In mines where wolframite was mixed with cassiterite, magnetic separation was used to separate the ores.

These machines were capable of treating 10 tons of ore a day. This process of separating magnetic substances from the non-magnetic substances in a mixture with the help of a magnet is called magnetic separation.
Main Equipments Used in Magnetic Separation Line
Vibration Feeder, PE Jaw Crusher, Ball Mill and Magnetic Separator, as the flow chart shows: (Silo) - Feeder - Jaw Crusher - Fine Jaw Crusher - Ball Mill - Spiral Classifier - Magnetic Separator.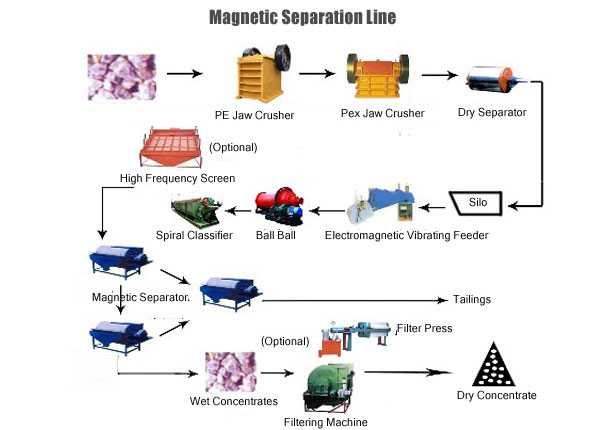 Magnetic Separation Process

Initial crushing with jaw crusher


Conveyed into ball mill by elevator and feeder


Classification with spiral classifier


Magnetic separation


Flotation


Concentration by mining concentrator


Use mining dryer for dehydration to get dry concentrates

Should this magnetic separation line be of interest to you, please do not hesitate to contact us or complete the form below, and we will response to you as soon as possible.


Hot product
Your Contact Details To Us
(*)Required information