Quartz Crushing and Processing Machine

---
Description:

The main content of Quartz is silica, Mohs hardness 7, translucent and opaque crystals, generally white. Quartz can be classified into ordinary quartz sand, fine quartz sand, high purity quartz sand and fused silica sand. Quartz stone production line is divided into ordinary quartz sand production line and refined quartz sand production line. General quartz sand specifications: 6-10M ,10-20M ,20-40M ,40-80M ,80-120M, 120M, 200M, 260M, 325M, 600M.
---
Quartz Process:

The block raw material fed through vibrating feeder evenly and sent to jaw crusher for coarse broken, coarse material transported by belt conveyor to cone crusher for further crushing, crushed materials sent into the vibrating screen to screening out two kinds of quartz stones, one kind quartz which can meet sand making crusher feed size will be sent into sand making machine, another part of the material will be sent back into the cone crusher for re-crushing.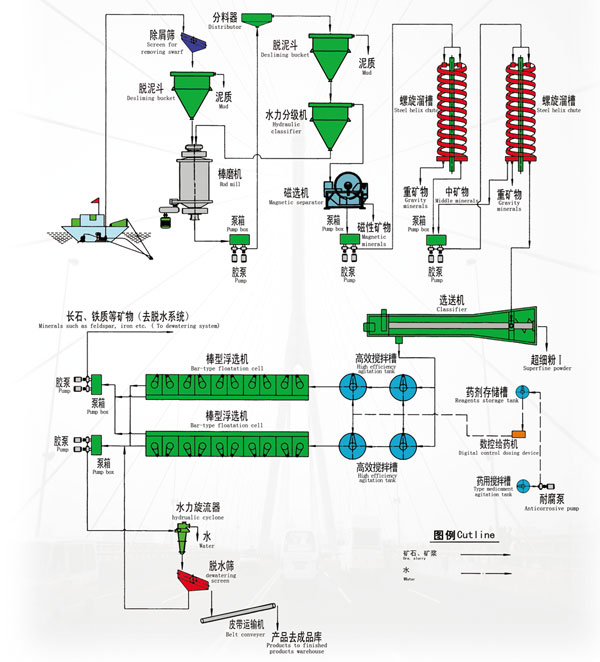 Coarse crushed material is sent by belt conveyor to sand making machine for further crushing, and the crushed material being transported to vibrating screen, finished size material will fed into sand washing machine for cleaning, after cleaning the finished materials will be the final product; crushed materials which do not meet the required final size will from the vibrating screen returns into sand making machine for re-crushing.

Quartz product final size are mix and graded according to the needs of users. If you choose dry production process, please equipped with the fineness powder separator and dust removal equipment.


Hot product
Your Contact Details To Us
(*)Required information