Roll Crusher

Introduction to Double Roll Crusher

Capacity:

5-125t/h


Feed size:

25-600mm

Double roller crusher is a roll type crushing machine with simple structure, less over crushing happens and the the tooth shape, size, are arranged on roller can change along with the materials. Xinguang roll crusher can be employed to crush hard and soft ore for coarse and fine crushing. It can be used to process pyrite ore (diameter: 20~30mm) after crushing by jaw crusher in sulfuric acid factory, and the roll crusher is able to break the ore under 5mm in diameter, to meet the requirement of the fluidized bed.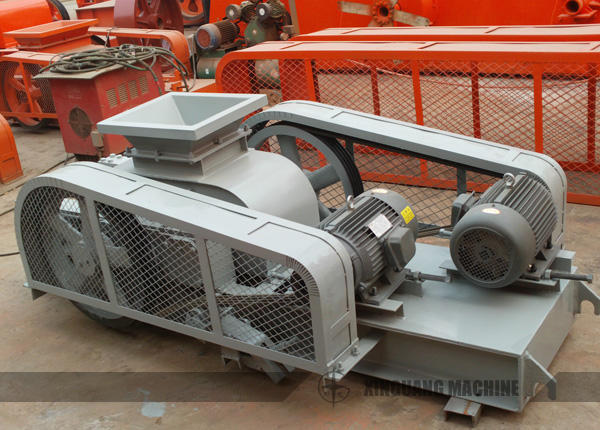 Application Fields: ore dressing, chemical, cement, building materials for half-fine and fine crushing of minerals and rocks with medium hardness.

The roll crusher is widely used for crushing high hard and medium hard materials in such crush medium and high hardness materials in the industries of cement, electricity, ore dressing, chemical, abrasive, building materials industries, metallurgy, and refractory matter. It has the features of low noise, little powder dust, reliable performance and convenient maintenance



Features:
1. Reliable structure, high efficiency, easy-to-adjust and economical.
2. Roll crusher has the more excellent effect than general stave machinery;
3. Less spare part consumption and low operation cost.
4. Easy maintenance and operation.



Technical Parameters:
Model

Feeding Size
mm
Discharging size
mm
Capacity
t/h
Motor power
kw
Roller speed
r/min
Total weight
t

2PG400*250

25

2-8

5-10

11

180

1.5

2PG610*400

85

10-30

13-35

11*2

75

4.5

2PG450*500

100-200

25-100

20-55

11*7.5

64

3.8

2PG600*750

300-600

50-125

60-125

22

50

8.34

Rod Mill Crusher

Flotation Separation Line

Feeder
Hot product
Your Contact Details To Us
(*)Required information