Impact Crusher

Description to Impact Crusher
Impact crusher is a key part of the sand-making plant, which is widely uesd in water and electricity project, highway construction. Impact crusher can crush granite, limestone and concrete, basalt, bluestone, etc. the diameters of which are from 100mm to 500mm, and its crushing compression strength is not more than 320Mp. The impact crusher has the features of big reduction ratio, high crushing efficiency, and convenient maintenance. The final product crushed by the impact crusher can be used in highway and railway surface and water and electricity industry.
Introduction to Xinguang Impact Crusher
Capacity: 25-350t/h
Feed size: 250-500mm
Xinguang impact stone crusher is acknowledged in this field for a long time and gives smooth running resulting power economy and higher efficiency. Our Impact Crusher is mainly used to crush many kinds of large, medium, small materials such as rock or stone whose side length is less than 500mm, and compression resistance should not be more than 350Mpa. And the impact crusher (impactor) is widely used in hydroelectricity, highway, artificial rock, stone and sand, building material, etc.
Features of Xinguang Impact Crusher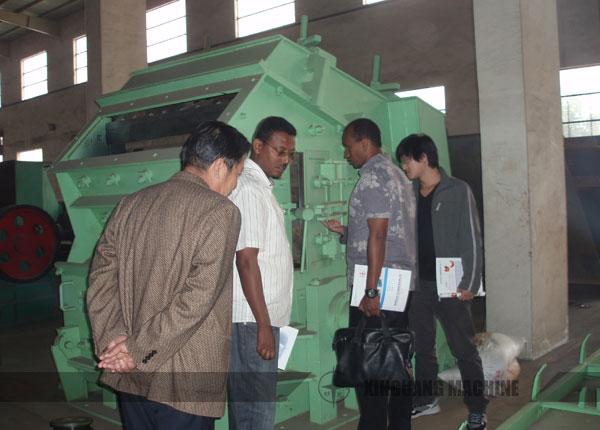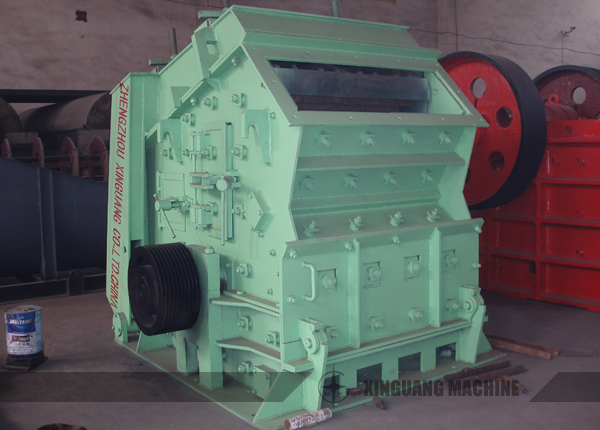 Large feeding ore size and good crushing performance;


Good looking cubic shape appearance and sturdy structure;


Compact structure and strong rigidness, and the rotor has big rotational inertia;


Adopts high chromium plate so that the impact crusher is of excellent shock resistance, abrasion resistance and big impacting force;


Easy maintenance and reliable operation. Hydraulic or hand opening.



Connected with locking sleeve assembly.


Final product with cubical shape.


The blow bar with high chrome.


High reduction ratio and crushing efficiency;


No-board connection; The blow bar with high chrome (high chromed blow bar).

Working Principle of Xinguang Impact Crusher
When the impact crusher works, the motor drives the rotor rotate with high speed, on the rotor where installed the hammers. When the materials get into the area which the hammers affect, under the impact function of the hammer at a high speed, the materials are thrown to the impact device above the rotor continuously. And then the materials are rebounded from the impact liner to the area where the hammers effects for being re-crushed. The materials from large to small all to be crushed at the impact chamber repeatedly. The process won't stop till the material are crushed to the required size and then discharged from impact crusher outlet.
Model

Size of Rotor
(mm)
Feed Opening
(mm)
Max. Feed Size
(mm)
Handling Capacity
(t/h)
Power
(kw)
Weight
(t)

PF1010

Φ1000×1050

400×1080

350

50-80

75

12

PF1210

Φ1250×1050

400×1080

350

70-130

110

14

PF1214

Φ1250×1400

400×1430

350

90-180

132

18

PF1315

Φ1320×1500

860×1520

500

120-250

200

19

PF1320

Φ1320×2000

860×2030

500

160-350

260

24

PF0504

Φ500×400

430×300

100

4-8

7.5

1.5

PF1007

Φ1000×700

670×400

250

15-30

37

6.5

PF1210

Φ1250×1000

1020×538

250

40-80

95

16
Should this impact crusher or any other products be of interest to you, please do not hesitate to contact us or complete the form below, and we will response to you as soon as possible.



Stone Production Line

Roll Crusher

30-50T/H Stone Production Line

Ball Mill

Flotation Machine

Vibrating Screen


Hot product
Your Contact Details To Us
(*)Required information