Cone Crusher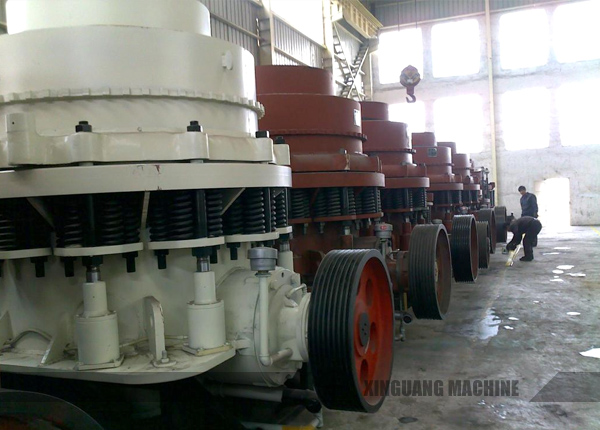 ---
Product Description:
Capacity: 10-1000t/h
Feeding size: 65-300mm
Applications: quartz sand, concrete, fireproofs material, bauxite, quartzite, corundum, perlite, ironstone, basalt, etc.
The cone crusher can not only improve the production capacity and crushing efficiency, but also has wide application with material hardness range from limestone to basalt. It has the features of stable structure, high efficiency, and easy adjustment. Xinguang cone crusher can be 3 types: coarse cone crusher, medium cone crusher and fine cone crusher. The standard type is suitable for medium crushing; the medium type and the short-headed type is suitable for fine crushing, so that the customers can choose different types according specific need.
---
Features:
1. Large crushing ratio and high working efficiency;
2. Perfect cubic shape product and sturdy structure;
3. Less spare part consumption and low operation cost;
4. Thin oil lubrication makes the life time increased;
5. Easy maintenance and operation.
---
Technical Parameters:
Model
Diameter
(mm)
Max. feeding
size (mm)
Width of discharge
port (mm)
Processing
capacity (t/h)
Motor power
(kw)
Swing frequency
of main shaft
Total weight
(t)
PYB
600
65
12-15
40
30
356
5
PYD
35
3-13
12-23
5.5
PYB
900
115
15-50
50-90
55
333
11.2
PYZ
60
5-20
20-65
11.2
PYD
50
3-13
15-50
11.3
PYB
1200
145
20-50
110-168
110
300
24.7
PYZ
100
8-25
42-135
25
PYD
50
3-15
18-105
25.3
PYB
1750
215
25-50
280-480
160
245
50.3
PYZ
185
10-30
115-320
50.3
PYD
85
5-13
75-230
50.2
PYB
2200
300
30-60
59-1000
280-260
220
80
PYZ
230
10-30
200-580
80
PYD
100
5-15
120-340
81.4
Hot product
Your Contact Details To Us
(*)Required information